Horus Green energy Investment  is an asset management company with significant track record and offices in Rome.
We provide access to attractive, stable and long-term returns from renewable energy assets based in Italy.
The multidisciplinary team of professionals is capable of sourcing, evaluating and executing investment opportunities in projects with solid
fundamentals, growth potential, and superior returns.
As management Team we manage significant assets on behalf of private and institutional investors, and we are an active investor across diversified strategies within the infrastructure, energy, and property sectors.
Horus Green Energy Investment seeks to provide investors with long-term contracted cash flows related to renewable energy infrastructure.
We guarantee high investment return, a controlled risk , an high assets value during the investment life and an excellent performance.
We are focusing our activity in the development of green field market, currently we individuated more than 200 Mwp to be build in the next 2 years.
We are in contact with local Key player (EPC) and best professionals and we have direct access to the market.
We are a new company but with an extensive experience , proven track record and with a multinational background.
Horus Green energy Investment
Asset management company with significant track record and offices in Rome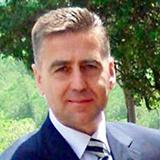 LUIGI SAMUELE
Managing Partner
Over 10 years of experience in the solar market

Recently he was responsible of PV acquisitions at Cubico for the investment in 106MW of solar assets in Italy successfully acquired and integrated with the rest of portfolio.
Previously CFO and member of Board of Directors of RTR (a Terra Firma company), the largest solar asset owner in Italy. He contributed to the setup and the investment in over 300 MW of PV plants.
Before joining RTR, he was CFO and Project Finance Director at Sunray (a Dehnam company subsequently acquired by Sunpower), which was one of the pioneers in the solar sector in Italy, with the development and construction of 24MW single plant at Montalto di Castro (first project bond issued into the market).
Prior to joining in Sunray he held a number of senior positions at Wyeth-Lederle Group (Today Pfizer Group) including the role of CFO of OTC division in Italy and he was most recently Southern Europe CFO in Galileo, a company involved in the global distribution services controlled by Blackstone Group.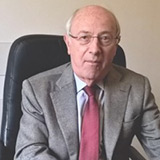 CARLO DI PRIMIO
Managing Partner
Over 40years of experience in the Energy and Renewable sector.
Recently he was Ceo and Board Director of several energy companies (Oil refining and marketing, Lng supply and marketing Power generation, Renewable projects).
Most recently he was Vice president and board Director of International Power Italia (Italian branch of the British group International Power, acquired in 2013 from the French group Engie. Vice President Italian branch BG Group.
Vice President and Board Director of Assoelettrica (Italian Federation of Electric Industry) and other industrial associations, Deputy General Manager of Unione Petrolifera (Italian Federation of oil industry), member of several Advisory Committee at national and international level.
Speaker in energy congresses. Author of papers and articles on petroleum, electricity, renewable and other energy issues.
Currently Ceo and President of the Italian Association of Energy Economists (AIEE), member of the AIEE Board.
Over 10 years of experience in the solar market developing and building over 110Mwp
Founder (2007) of Solarys generating today revenues of €70m
Most recently he was co-founder and manager of Graziella Green Power Spa, developing over 50Mwp of PV assets
Previously in Synergo as developer manager for Balkan Region
Board member of MC2 Spa , a company in the energy market with a total revenue of € 200m.
Co-founder and CEO of Ecotrade a company operating in the trading market with over 70m of revenues
Recently was co-founder of E-Box a company dedicated to the venture capital market
During 2014 he was member of Corrente-Gse , a ministerial association dedicated to the promotion and development of networks of Italian companies for new energy markets.